Westchester NY Garage Door installs and repair garage door openers for homeowners who use their garages every day. In harsh times of year, this is not a luxury but a necessity! Openers come with features that greatly improve your enjoyment of this space, such as an overhead light, remote lockout, and quick-release emergency function.
Call us at 1 (800) 336-9270
Other services that we offer:
24 hour emergency service
Installing highest quality garage door parts
New garage door sales and installation
Garage door opener sales and installation
Garage door accessories
Fix broken springs, cables and rollers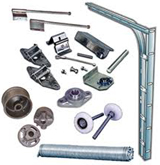 Westchester NY Garage Door can fix all of these problems, and teach you how to maintain your garage door to keep it in shape and working smoothly too. Since garage doors get so much use, itís important to keep the moving parts well-oiled, including rollers, springs, and hinges. In some climates, cables and pulleys take a beating from the elements, so itís important to inspect them on a monthly basis and replace any parts that are starting to show signs of wear and tear. Westchester NY Garage Door is also able to replace single panels that have been dinged or dented, and match the color to the other panels.
Contact us at 1 (800) 336-9270
With Westchester NY Garage Door, your satisfaction is our main goal. Fast, efficient and cost-effective service is our core foundation. You can trust us your garage door dilemma, only Westchester NY Garage Door can give you 100% satisfaction! So call us today!