Just as the looks of your house is important for you so are the garage doors. Do you want to see your house to be a fascination of neighbors? In this case, the garage door really has a great role to play on the appearance of our house. The most secure homes use the garage door system. The installation systems offered by Westchester garage doors company makes the work much easier for you.
Call us today at 1 (800) 336-9270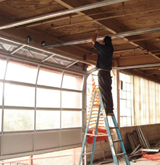 Westchester NY Garage door installation is one of the best options for you. We provide with the most comprehensive use manuals that help you to install the garage door yourself. To beat the competition, we come up with innovative ideas and clear cut proceedings to ensure right installation of a garage door. Westchester Garage Door is the best Garage Door Installation company available in the market.
The process of installation might be a little cumbersome but it requires your patience and understanding to read the simple manual and implement the same. Westchester garage door installation manual delineates step by step process to help you install the garage door.
There are generally two kinds of spring systems in your garage door. The torsion spring system and the extended spring system are the two main types of systems that bind your door to the joint. The spring has to be the best one in your garage door for the best performance. To get the best quality spring you have to trust the Westchester Garage door installation process completely.
Call us today at 1 (800) 336-9270